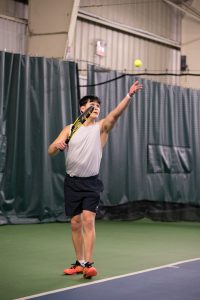 Under the direction of Stephen Thom, the Steveston Community Centre offers a host of racquet sports. From table tennis to squash and private tennis lessons!  Please check the link below or contact Stephen directly by phone.
Indoor Tennis Court Rentals
Court bookings are available 7 days a week.

Rate: $19.30 per hour per court

To book a court, call 604-238-8080. Please have your City of Richmond Client ID and credit card information available.
Important Booking Information
All players must have a valid City of Richmond Client ID number.
Payment is required at the time of booking via credit card only.
You may book up to 7 days in advance.
A maximum of one court permitted to be booked per day, per person.
No refunds, credits, re-bookings or wait lists.
Use of court permitted only during time booked.
Proper clothing required including non-marked soled shoes only. No jeans or black soled shoes permitted.
All courts are for public use.
For the safety and enjoyment of all participants, private lessons are restricted to those operated by the Steveston Community Society.
Schedule is subject to change.