The Importance of Community – Strengthening Our Neighbourhood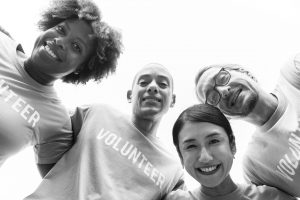 Become a part of Steveston Community Centre's volunteer team and help build our neighbourhood through giving back, sharing your skillset and engaging with the community.
We're always looking for motivated individuals, families and groups to help out with community special events, seasonal programs and Board and Committee work.
Help us to create memorable experiences!
Please see the links below for more information and to access the application forms:
STEVESTON COMMUNITY SOCIETY VOLUNTEER APPLICATON
For more information, please contact the Steveston Community Society at 604-238-8094 or society@stevestoncommunitysociety.com
How to Sign-up as a Volunteer – To become a part of Steveston's Volunteer Team, follow the steps below!
1) Complete the Volunteer Form and send it directly to the SCS offices as above.
OR
2)  Create an account on our volunteer website (http://icanhelp.richmond.ca).
-Click on "Volunteer as an Individual" and then follow the steps provided to create your volunteer profile.
-After you have created an account, click on "Search Opportunities" on the upper right on the website.
-Select "By Facility",  and choose "Steveston" under Community Centre.
-Once you have found an opportunity that interests you, sign-up for it through the website. You will be contacted promptly regarding your application.
Some volunteer opportunities require interviews and/or a Police Information check